Managing C&I Credits With Small Business Loan Analytics
If your bank is thinking about adding more C&I loans to your portfolio, you may also be wondering about the best ways to effectively manage those credits. After years of working with heavy credit-using commercial & industrial businesses, we've found that having the right tools in place can make a world of difference. We're going to share our favorite tools, starting with an extensive database that provides SBA loan performance data by state, by MSA (metro statistical area) or by industry.
* * * * * * * * * * * * *
If our C&I series has been successful, then we've effectively communicated that C&I lending represents a major opportunity for today's community banks – bigger than most realize. To recap:
If all of this information has you contemplating adding more C&I loans to your portfolio, then thinking about how to effectively manage those C&I credits is a logical next step. C&I businesses can be more complex and specialized, and banks often feel uncomfortable extending credit to businesses they don't understand well. This is an understandable reaction when you're on the hook for hundreds of thousands or millions of dollars.
In this article and others to follow, I'm going to share with you incredibly helpful tools for analyzing and managing C&I credits. But first, I offer this caveat: even with powerful tools, there are no shortcuts.
You must possess a willingness to help your business clients – dig into the data, and then analyze it. Additionally, C&I credits require more ongoing monitoring than a typical real estate transaction. With that said, here's a good tool to start with.
This web resource provides aggregate loan performance data of government guaranteed loans. It is a valuable tool to consult at the start of the loan process, as it provides information by NAICS code about loan originations, defaults, prepayments and charge-offs, and recovery rates. When you're evaluating a business borrower, SBLA can give you a general sense of how loans to that particular industry have performed.
For example, let's look at the data for machine shops.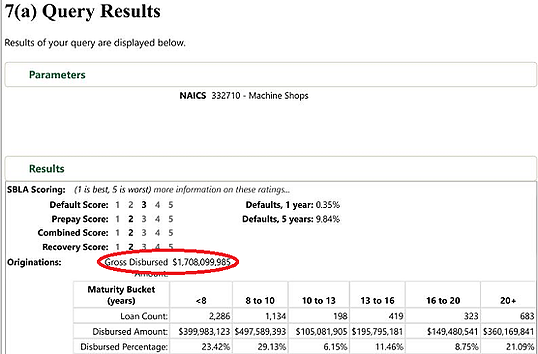 SBLA reports there has been more than 5,000 7(a) loans to machine shops totaling more than $1.7 billion. This tells me there is a lot of historical data to draw from and the data will be reliable.
The SBLA Scoring Data indicates defaults on machine shop loans are about the same as other industries, but the incidence of prepayments are lower and recovery in the event of default is higher than the average SBA loan. The overall score of this NAICS code is above average when all factors are considered.
By looking at the maturity buckets, I can also deduce that 2/3 of the loans to this industry are for working capital and equipment, with only 1/3 of the loans including real estate. (To exceed a 10-year amortization, you must have commercial real estate to include in the package.)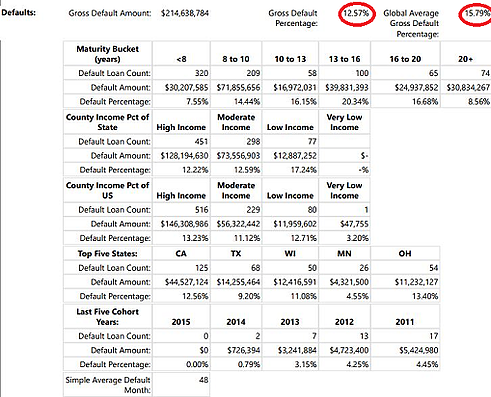 The gross default rate for machine shops is 12.6%, compared to 15.8% of SBA loans as a whole. We can conclude that on average, the universe of machine shop loans has about a 20% lower incidence of default per dollar of loan than the average SBA loan. This will make the industry an attractive place to invest the bank's loan dollars.
The simple average default month is the 48th month, meaning the defaults are happening by the end of the 4th year. Lenders will need to monitor these companies more closely.
It would be good practice to require borrowers to provide monthly internal financials that are of high quality, and an accountant-prepared year-end financial statement with notes, even if it is only a compiled statement, as well as an annual tax return. The tax return should be reviewed closely to make sure it ties back to the financial statements you are receiving. Collecting an annual tax return is not enough monitoring for this type of credit.


The voluntary prepayment rate is 18.3%, compared to 26% of all SBA loans. So, on average, machine shops voluntarily prepay at a lower level.
The simple average voluntary prepayment month is the 54th month. It is perfectly acceptable for the bank to refinance its own SBA loan with a conventional loan if the borrower performs well and has sufficient collateral to warrant such a refinance.
If the borrower is performing, don't lose a good client to your competition! If you are collecting the data as suggested above, you will know if your client is doing well and you can proactively steer the client to conventional loans or leases as your loan policy would dictate.
The recovery percentage is 51.4%, compared to 46.6% for all SBA loans. This tells me that in the instance of default, machine shops have about 10% higher collateral recovery rates than other SBA loans. This decreases the bank's reliance on the SBA guarantee as the sole means of avoiding a large loss on this loan. edit me. It's easy.
The SBLA data is not a substitute for reviewing an individual company's financials, but it does provide helpful insight about loan performance for a particular industry. It can guide your decisions on where to invest the bank's human and financial capital to secure good long-term clients, and above average returns.
Over the years, VITAL Financial Services has developed expertise financing C&I businesses with the support of SBA and USDA lending programs. We're your partner every step of the way, supporting you with tools to help identify solid C&I lending opportunities, evaluate risk, and manage credit. Contact us if we can help.